Sunrise today was at 5:32 a.m., sunrise will be at 8:40 p.m.! Last Monday night, when I got home from bookgroup at about 9:45, the sky was still ruddy over the Olympic mountains to the west. Long twilights are a true joy.
View from the window where my computer is living this week
Today is a quiet, wet, late spring day, highs in the mid-60s; yesterday was blue skies, mid-80s, sweaty weather. We are having our downstairs bathroom remodeled and D and I are hunkering in our upstairs rooms for the next 5 days. We've both taken vacation time to be here for this so we can let the workers in and out, but it doesn't feel very vacationy. It was really a sudden decision - dry rot under the toilet dictates when something like this happens - so I still have a rep appointment on Wednesday and book deliveries to schools for the Northwest Literacy Foundation. I've been in contact with work a couple of times. Sigh,
I've set up my laptop in the bedroom on a tv tray, radio in the background, to work on book orders for the fall season. But, truly, looking at all that data, scrolling through book after book can be daunting. One publisher has almost a thousand titles! I don't have to look at them all in depth, but most take three different key strokes and a lot of track ball moves. My butt hurts and I really want to weed the path that runs along the west side of the house. But it's raining.
And with a house full of unread books, and uncleared shelves and closets, I shouldn't be bored. But I am.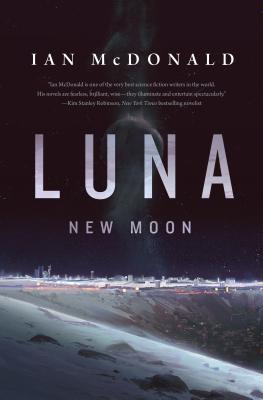 So, I guess I am going to drag that stack of b
ooks on the bedside table onto the bed and see what screams, "READ ME!!!". I saw a new book in the store the other day and ordered it up from the library:
Luna: New Moon
(Ballantine)
, by
Ian McDonald
. The first few pages were gripping and maybe if I read it when I'm trying not to go to sleep, I will have better luck with the rest of it. It should be good; any book that starts with a moon run (out in the airless atmosphere, 10 seconds, unprotected) ought to be.

There are six other books in that stack including Maggie Stiefvater's Raven King (Scholastic) which I have been hoarding for a day just like this one. It's like saving that last piece of chocolate for the perfect moment. Will that moment ever come? Will the chocolate just go stale? Am I just afraid that this really will be the last book in the series so I don't want to read it because then it really will be over?

New to the stack, as of last Thursday, is the third book in the Jackaby series, Ghostly Echoes (Algonquin), by Springfield, Oregon middle school teacher, William Ritter. This series is so much fun and so funny this book might just be the perfect diversion for a gray and cold afternoon.
Well, when I finally make that decision to spend the next few hours submerged in a completely world, I'll let you know how it went.